Remodeling projects are a great way to pass the time, but they can also be a great way to improve your home and yard. If you're considering taking on a garage makeover, there are a few things you should keep in mind. This blog post will go over some considerations that will help you plan the perfect garage makeover for your home.
Storage
This part of your house should be home to a lot of tools, parts, appliances, and other items, which is why you must make it functional. Homeowners are always looking for the most suitable garage cabinet system for their place in order to make sure everything will fit. Storage is one of the most-needed aspects of any garage.
Having an adequate place to store your belongings is essential for a properly functioning garage. Consider storage options that can help you to utilize the space in your garage more efficiently and effectively. Look into racks, shelves, hooks, and other storage containers to help keep all of your items organized.
You can also add storage bins or cabinets on the walls to make use of any vertical space in your garage. If you have a lot of large items, storage solutions like racks and cabinets are great for storing them safely off the ground. Additionally, storage overhead systems provide storage space while taking up minimal floor space.
Lighting
You should pay special attention to lighting when giving your garage a makeover. This aspect can make all the difference in how inviting, productive, and functional your space is. Adding lighting around the walls at different levels can create an effective lighting scheme.
Consider using both natural elements from windows and artificial options from fixtures such as recessed lighting or pendant lighting for added illumination throughout the room. You may even want to install task lighting over work areas for a brighter workspace.
When selecting light fixtures, be sure to select components that are designed for damp locations like garages to ensure proper protection against moisture. Different color temperature bulbs can also give your garage a cozy atmosphere while providing enough brightness to complete tasks with ease.
Wiring
It's recommended that you have an electrical outlet on every corner of the garage so you can utilize the entire area. This will ensure that you'll have the power to run appliances and tools, enabling you to make the most of your space.
It's also important to ensure that the wiring is properly installed and functioning safely. This includes ensuring the wiring meets code requirements and making sure that all electrical components are in good working order. If you're not sure how to wire correctly, it's best to hire a professional electrician or someone who has experience wiring garages.
Space
You must plan your garage space depending on its purpose. Here are some pointers:
For crafting and DIY projects, the extra space should be used for storage and the area behind the car can be used for a workspace.
For entertaining, the garage can be turned into an inviting place.
If you're using the garage for the car, the space should be well organized with the ability to easily store tools and other items.
If the garage is being used for storage, the walls can be lined with shelves and drawers to help keep the items neat and tidy.
No matter what the purpose of the garage is, it must always be comfortable, spacious, and organized.
Flooring
Make sure to also choose the proper flooring solution for your needs. For example, vinyl is not only cost-effective but also very easy to install and maintain. There are several types of vinyl flooring available on the market, such as tile flooring and sheet flooring, so you can choose the one that best fits your budget and requirements.
No matter what you choose, the floor must be durable enough to withstand heavy weight and traffic, as it will likely be used for parking cars and storing tools. Epoxy flooring or rubber flooring may be the best options for you since they provide a strong and non-slip surface with good resistance to chemicals.
The Entrance
You should also think about the functionality of the entrance of the garage during your makeover. This is the first thing that people will see, so it's important to make a good impression. Consider giving the entrance a fresh coat of paint or installing new lighting fixtures for a brighter, more welcoming atmosphere.
You could also upgrade the door in order to make it open and close with more ease. Additionally, the entrance is the best place to install outdoor security features such as motion-sensor lights or cameras for added protection and peace of mind.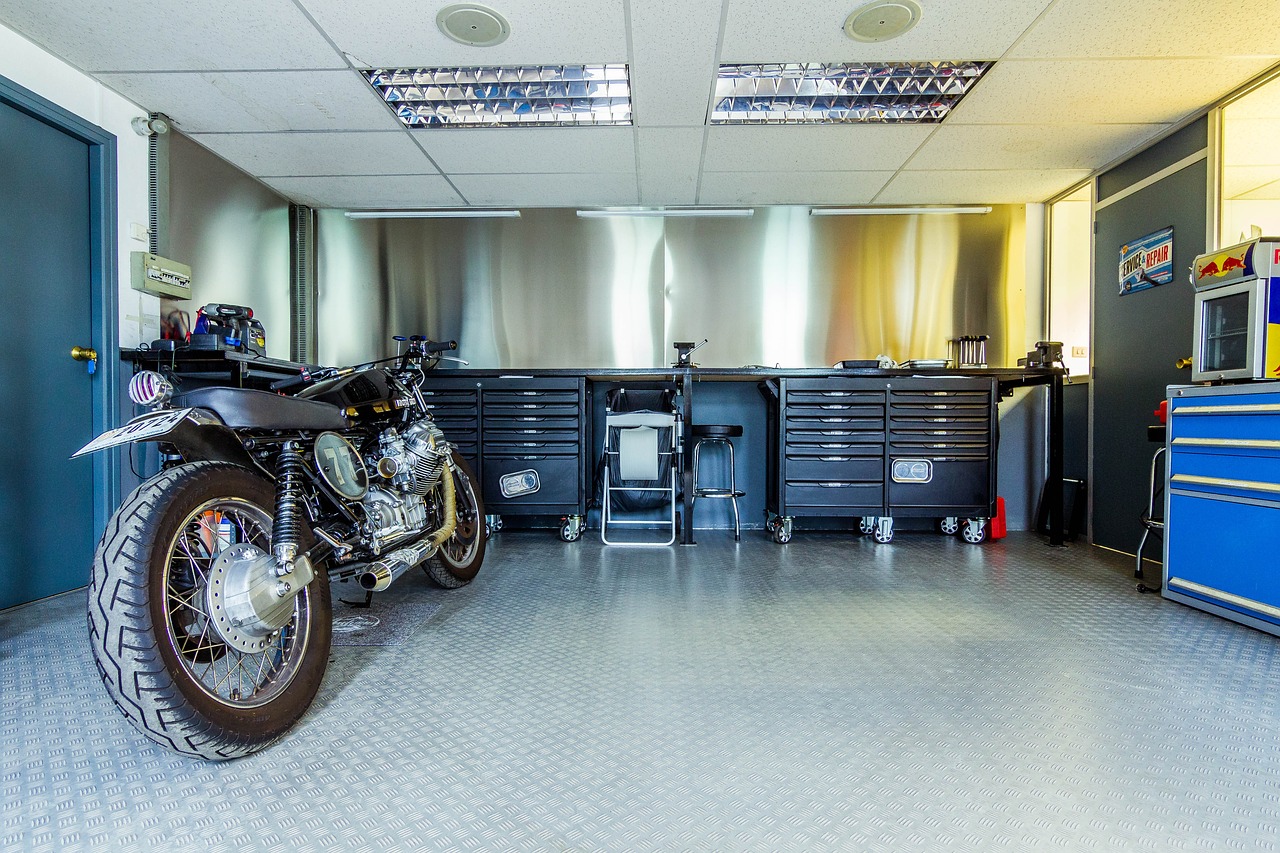 Your garage can be one of the most useful parts of your home if you utilize it, so make sure to add lots of storage to it. Keep it well-lit and mind the wiring. Make sure to plan the space according to your needs and install functional flooring. Finally, don't forget about the entrance points of your garage!
4 Reasons Why You Should Invest In A Dual Coffee Maker >>