Winter is slowly but surely coming to an end. We, the girls, already want heat and bright colors, spring freshness and change! Perhaps a new hairstyle in February will help dispel the frosty melancholy and grayness of the streets? Especially since the Saint Valentine's Day is near and a romantic date can happen 🙂
To make the hairdresser visit successful, you need not only to choose the right craftsman, but also to pay attention to the date. The lunar cycle is full of favorable days for a haircut, but there are also such time periods in which it is better not to experiment with your hair. Haircuts lunar calendar February 2018 will help you choose the right date to update your look with hairdressing scissors.
Haircuts by the Moon – favorable days
The Moon affects the speed of development and growth of all living substances on our planet. Human nails and hair also fall under this definition. Being in the Growing phase, the Earth's companion strengthens growth – accordingly, the hair, cropped in the first half of the cycle, will grow faster and become thicker. A haircut made after the Full Moon will retain its shape for a long time because the hair will grow slowly.
February 2018 begins exactly after the Full Moon. I picked up favorable dates of this month for haircuts with different tasks: cutting off the tips "for length" and model haircuts. In addition, below you will find a list of dates that are absolutely not suitable for the hairdresser visit.
As for the favorable days for a haircut, each of them has its own specific positive consequences. Thus, a haircut on one lunar day will bring you a considerable profit in business, and on other – will help to find a common language with parents and children and so on. If this is interesting, find out more in the Beauty Lunar Calendar.
Haircuts lunar calendar February 2018
Cut hair for length: February 16, 17, 21, 22, 24, 25, 28
Haircuts which keep their shape: February 10, 11, 12, 14
Favorable days for haircuts (in general): February 2, 3, 4, 5, 6, 7,
Unfavorable days for haircuts: February 9, 18, 19, 20, 23
Neutral days for haircuts: February 1, 13, 26, 27
---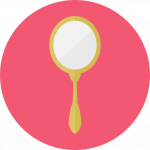 Beauty Lunar Calendar 2020 is your guide to proper care for yourself. Recommendations for the skin, hair, and nails care, water procedures, trainings and nutrition … And that's not all! Using the Beauty lunar calendar, you will always correctly plan your time, look great and feel wonderful!