Lapis lazuli is probably the most bright mineral among the gems. From the Persian "lazurite" translates as "blue". At all times and in different cultures, it was called "the stone of sky" and associated with divine energy, spiritual development, something powerful and sublime. Lapis lazuli is a mascot-gemstone of the 12 lunar day. It is a time when we rise above the material world to achieve true harmony and spirituality. This means that Lapis lazuli magical properties gets the greatest power on the 12th day after New Moon, and any rituals with it will be more effective at this time.
What lunar day is today? Lunar Calendar 2020 >>
Lapis lazuli in the history of different countries
Our ancestors from all over the world revered lapis lazuli. It is interesting that even in the Bible, lapis hide behind the word "sapphire". The Egyptians used this stone to decorate the sarcophagi of the great pharaohs. And the Babylonians carved their spells on lapis lazuli tablets.
The Iranian kings constructed canopies for their thrones from this bright mineral. The Indians meditated with lapis lazuli and believed that it was able to uplift the spirit of man and become a guide between him and the gods. Chinese emperors decorated the headgear with balls of lapis lazuli, in order to emphasize their belonging to the ruling elite. And in Europe, the nobility exchanged jewelry with this stone as a sign of sincere friendship and devotion.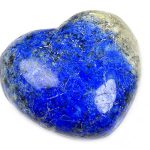 Lapis lazuli in lithotherapy
Lapis lazuli magical properties have been used to treat a variety of ailments since ancient times. In folk medicine, especially popular were powders and tinctures of this mineral.
The famous Indian king and physician Buddha Bhaishadshya-Gura accepted patients sitting on the lapis lazuli throne. They say that It was worth spending just a few minutes beside it, as any illness went away.
The modern lithotherapy uses lazurite to treat:
Skin problems – wounds, burns, warts, pigment spots, eczema.
Baldness, loss of eyelashes.
Poisoning, bites of poisonous animals.
Rheumatism, bone tissue.
Eye diseases, myopia and hyperopia.
Dry cough – by putting a pebble on the chest.
Migraines, headaches due to high blood pressure.
Lithotherapists note that the healing properties are stronger for stones with a bright and juicy color. Since lapis lazuli is an opaque, "yin" stone, it most beneficially affects women.
Lapis lazuli energetics and its impact on humans
Lapis lazuli magical properties center around the idea of spiritual growth, its ability to rise above the world of material values. This mineral aggravates a person's ability to empathy, helps to gain wisdom and enlightenment. Lapis is the patron of true love and strong friendship. It purifies our consciousness of evil thoughts and base passions, provoking people to sincerity and honesty.
On the 12th lunar day, when we learn love and acceptance, even a small lapis lazuli pebble can help! Do not miss this powerful magical time with the Moon Calendar: