Just as your skin requires careful love and attention, so does your hair. Haircare is one of the most important tasks you should add to your to-do list since the shine of your hair reflects your whole physical and emotional wellness. To do this, the first and most significant step in obtaining a particular appearance or hairstyle is to use hair products. Your hair care will not be satisfactory without the proper hair care products, and you will believe that proper hair care is impossible. However, this is not the case because using the right hair care products makes things easy.
To that end, here are 6 hair care items you should use to ensure a successful and easy process!
Shampoo Bars
A shampoo bar is a solidified version of a typical shampoo. In comparison to hair shampoos, they're constructed of hardened oils and mild cleansers that are put into a bar form to protect your hair. Many shampoo bars still provide the same foam as liquid shampoos, but without the dangerous chemicals and other components that might cause dryness and damage in the long run. Learning more about the benefits of a shampoo bar helps you realize the importance of using them in your hair care. These are very recommended, not only because of the advantages they can bring to your hair but also because of their eco-friendliness. For instance, the bar does not contain the same quantity of water as its liquid version. Shampoo bars are better for the environment right from the start in terms of water conservation, thus, these have various benefits that put them on the top of our list.
Hair Oils
Hair oiling is crucial for giving hair the nutrients and vitamins it requires to be lustrous and appealing. Hair oiling on a regular basis also maintains your scalp fed and moisturized. The hair oil penetrates your scalp and nourishes your hair roots, resulting in thicker and brighter hair. Furthermore, all of these hair oil advantages may promote hair growth, which is great for individuals who suffer from severe hair loss.
Dandruff is a common symptom of a dry scalp. Hair oiling may effectively block this, making it one of the easiest natural cures for dandruff at home since it hydrates your scalp and prevents this nuisance. Finally, hair oil prevents premature greying by providing your hair with all of the minerals and vitamins it requires to be healthy and lustrous as if you were still in your twenties.
Hair Serum
Hair serum is another hairstyling solution that covers your hair's surface. It has a silicone foundation that rests on your strands like a rubbery texture. A hair serum may decrease frizz, or smooth your hair, depending on the outcome you use it for. Some formulae may also offer protection from other types of harm, like hair breakage or hair loss.
As previously said, serum smoothes your hair, making it appear brighter and glossier. Furthermore, some silicones utilized in hair serum can assist emit sunlight, increasing overall gloss and making your hair healthy and beautiful.
Hair Conditioner
Hair conditioner is a substance that is applied after shampooing to maintain hair silky, lustrous, and controllable. Hydration is of course necessary not only for your hair but for your entire body. Thus, the conditioner achieves that for hair by protecting, moisturizing, and smoothing it.
Of course, what is mainly important is that a conditioner provides great luster and softness to the hair by feeding and deep conditioning it. Conditioners accomplish this because they include powerful conditioning chemicals that moisturize each hair strand and keep hair from becoming brittle and frizzy. For these reasons, a hair conditioner is definitely something that should be on your haircare shelf.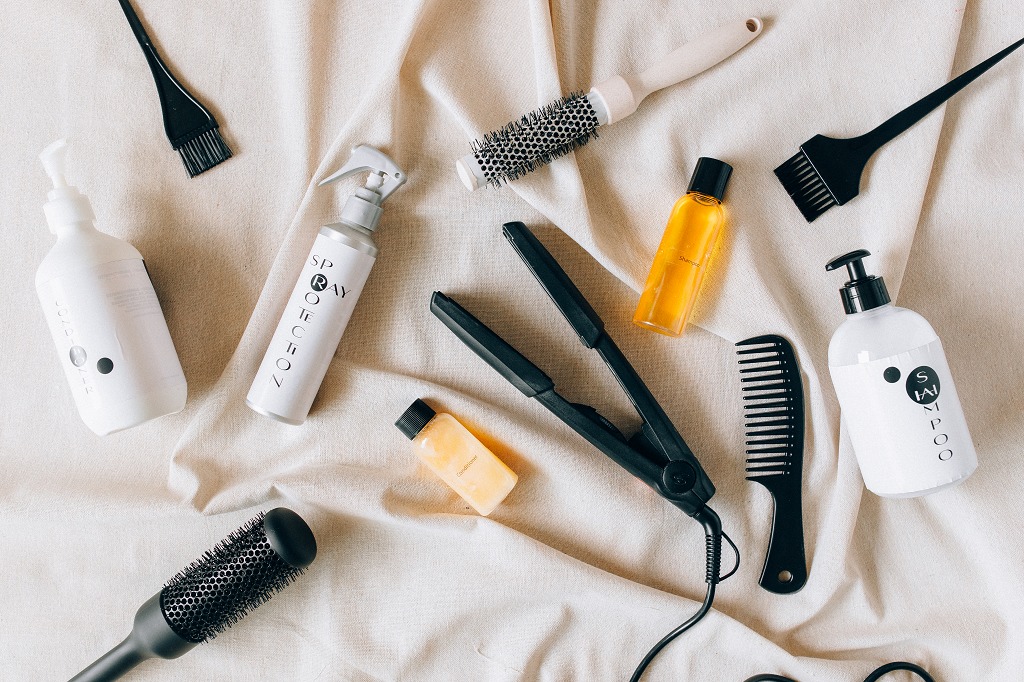 Heat Protectants
Another fantastic hair product is a heat protectant, which increases moisture and creates a protective layer before using heat on your hair. It prevents moisture loss from your hair induced by heat. It protects hair from splitting and harm, as well as heat damage from dryers and irons.
Because of the high temperature used to produce the desired style, styling your hair with hair straighteners and blow-dryers without these small assistants can be rather detrimental to your fragile adornment. They come in gel, spray, and oil formulations.
Moisturizing Lotion
Hydration is an important aspect of optimal hair care, as has been said and demonstrated. As a result, a moisturizing hair lotion should be included on your shopping list. When you use it, your hair will be moisturized, shinier, and healthier, and everyone will be impressed. An excellent moisturizer will keep your hair moisturized, preventing breakage and the damage that a dry scalp may bring, such as dandruff, hair loss, and hair breakage.
We hope you find this material helpful and that you treat your hair with the respect it deserves. Remember that your hair is a reflection of your entire health, so treat it well and invest in these things to assist you.
Learn how to take care of your hair according to the Moon