Have you ever tried to DIY some house renovation without enough information? You thought you could wing it? How did that end? Oftentimes we underestimate DIY projects and end up leaving it halfway done, not being able to pull it off at all, or failing woefully. This is usually because we do not have the right tools/materials or because we realize some major safety issues.
Bathroom DIYs
It has become a trend to DIY virtually everything from clothes to shoes to interior decor pieces and so much more. The bathroom might not rank high on the list of spaces where you'd want to decorate but have you thought about it? Professionals at https://www.shuttercraft.co.uk say that bathrooms are a great place to unwind and that there is nothing more relaxing than a nice soak in the bath. There is a lot of charm you can bring to your bathroom with the right decor pieces and we are here to share some ideas with you.
Bearing in mind how awry DIYs can go, we will also share the tools you'll require to pull off each project and what sort of gear you need to wear to ensure that you're protected from injuries or harm.
Rustic Wooden Bathroom Storage Ladder
If you have a wooden ladder lying fallow at home, you can convert it to a storage ladder for your bathroom. You'll need
Nails
Wood
Hammer
Metal baskets
Glue gun
Depending on how many rungs are on the ladder, more can be added with the wood, nails, and hammer. The metal baskets should be nailed or glued to the ladder to create more storage while the rungs can also serve as towel holders. It is advisable to wear work gloves to avoid injuries to the hands.
Wall Mounted Magazine Racks
If you have magazines lying around in your bathroom or around your toilet seat, a magazine rack is a good way to organize them. You need
Wood
Paint
Nails
Nail gun
Level
Putty
To pull off this rack, measurements are important. You can use 1×2 pieces of wood for the left and right sides of the rack and 1×3 pieces for the top and bottom rack. The racks should be attached to the wall with the nail gun with at least two nails. After this, you attach a top piece over the left and right rack and attach another piece 7 inches lower, over the top rack. All placements should be checked with a level and attached with a nail gun.
Protective gear for this project will be primarily working gloves.
Under The Sink Extra Shelves
Here is some extra storage space for you with little to no effort.
You'll need
A piece of flat wood cut to size with room for the sink pipe
Paint
Drills and screws
The wood simply has to be drilled under the sink with enough space on top to hold boxes and other items. More slabs of wood can be added to create several layers. Work gloves and protective glasses should be worn when carrying out this project.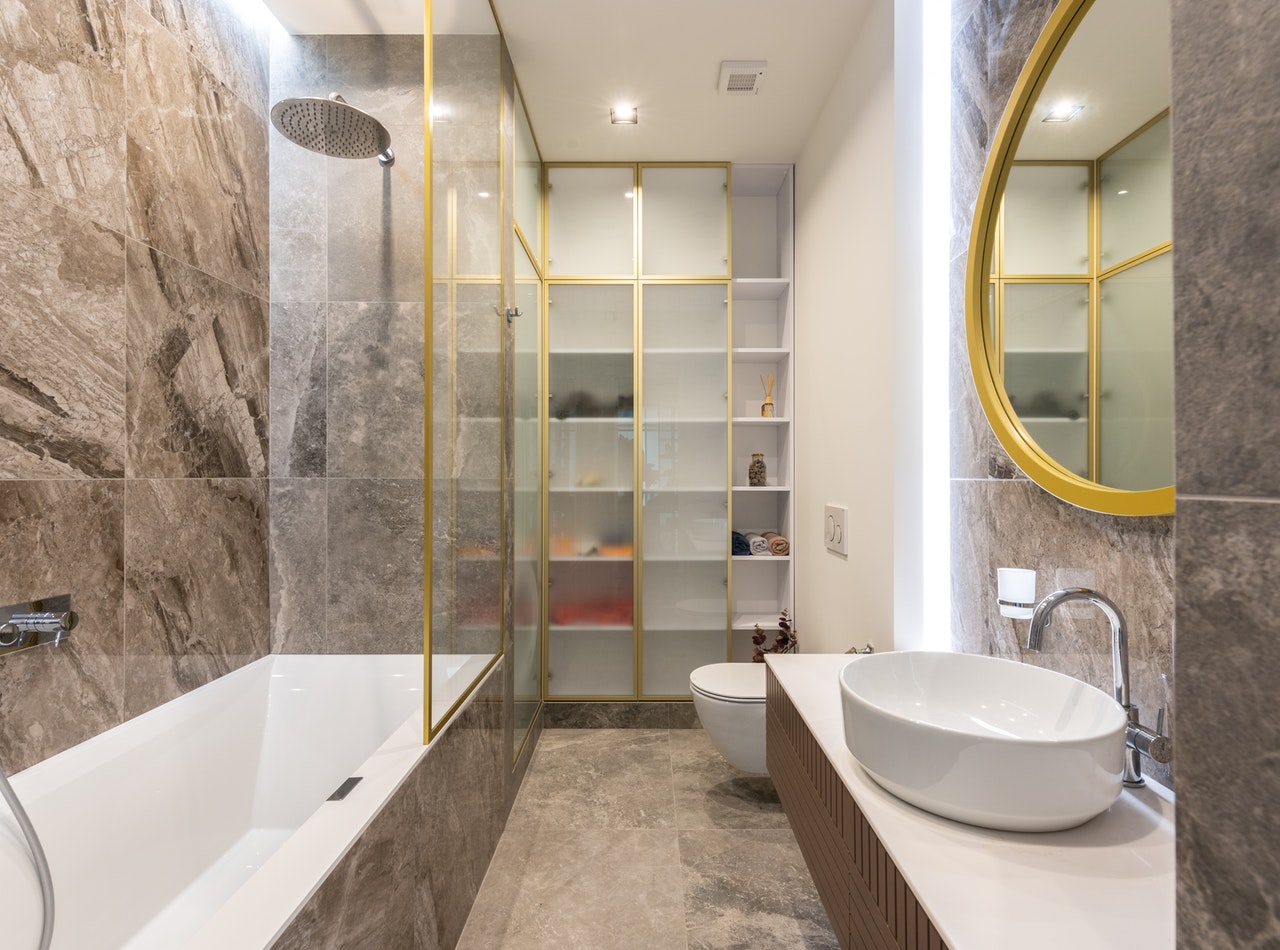 Rolling Bathroom Storage Project
This a combination of wooden crates that can contain bathroom essentials and help to avoid clustering. You'll need
Wooden crates and a piece of plywood
Wood stain
Polyurethane
Sandpaper, bristle brush, sanding sponge, drop cloth, tack cloth
Casters
Drill, drill bits, and screws
Adjustable wrench
The wooden crates will first be sanded. After this, they will be painted with a wood stain and coated with polyurethane. The wooden crates will then be joined together with the drill and screws. The plywood will be attached as the base and the canisters will be screwed into the pilot holes made by the drill into the plywood. It is important to wear work gloves and protective eye gear to protect hands eyes in the course of drilling.
Mason Jar Bathroom Set
This is a good way to upcycle mason jar sets and provide storage for items in your bathroom. You need:
Mason Jars
Paint
Clear-Coat Sealant
Mason Jar Soap Lid Converter Kit
Mason Jar Flower Frog
Paint Brush
Sandpaper
The first step here is to paint the mason jars with at least two coats to ensure durability. This should be followed by the clear coat sealant. The sandpaper will then be used to distress the letterings on the mason jar. The mason jar soap lid converter kit and flower frog will provide different lid styles for the mason jar making them suitable for storing different items. The only protection required here might be latex gloves to prevent reaction to paint.
Several other bathroom DIY ideas are easy to execute. However before embarking on any project, ensure that you properly consider the process, tools, and safety measures required for that project.
A Simplified Guide to Selling Your Home and Buying Another >>