Jadeite is a relative of nephrite. Most often it is green, but there are also white and pink gemstones. Interestingly, the very name of this mineral confirms jadeite magical properties. It occurs from the Spanish word combination "piedra de ijada", which in translation means "lumbar stone". In times of America's conquest, people knew that this stone is capable of curing kidney diseases.
Jadeite is a mascot-gemstone of the 2 lunar day, the period of the first active steps in the implementation of plans for the coming month. This means that jadeite gets the greatest power on the second day after New Moon, and any rituals with it will be more effective at this time.
What lunar day is today? Lunar Calendar 2020 >>
Jadeite in the history of different countries
Ancient Indians widely used jadeite in everyday life. They made household utensils, tools, house decoration from it. Over time, this gemstone has become one of the most popular materials for making Indian amulets and decorating their temples. In addition, this mineral tied with the cult of the Sun and used to conduct its rituals.
Between New Zealand inhabitants jadeite was worth more than gold. In the Chinese and Japanese empires people believed that this stone gives health and longevity. They made jewelry, furniture, and even pillows from it! Each wealthy resident wore a ring with jadeite.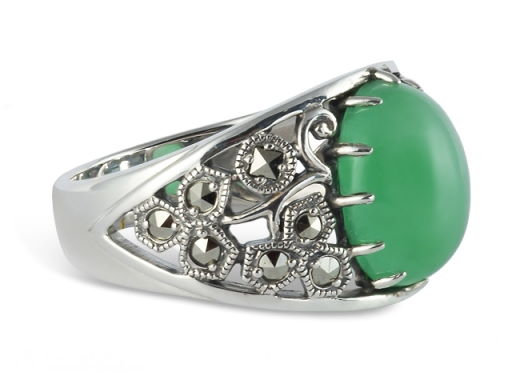 Jadeite in lithotherapy
Jadeite healing properties have been used for a long time in different cultures of the world. This mineral is able to:
Positively influence the human reproductive function. Jadeite cures sexual impotence and infertility, facilitates pregnancy, promotes successful and rapid childbirth.
Adjust blood pressure, relieve heart disease. The most effective for this purpose is pink jadeite for hypertensive patients.
Strengthen the medicinal properties of drugs for kidney disease. It is interesting that jadeite itself can not heal kidneys, but in tandem with medications helps to recover quickly and without complications.
Strengthen immunity, stabilize all processes in the body. This is possible due to the energy balance stabilization, which entails the improvement of work of all the organs.
To strengthen jadeite healing properties, you need to heat the stone. It is good to use this mineral during bath procedures. The body is relaxed and ready to take the beneficial substances released by the heated stone. In addition, you can heal pets with jadeite, placing stones in your pet's sleeping place.
What lunar day is today? Lunar Calendar 2020 >>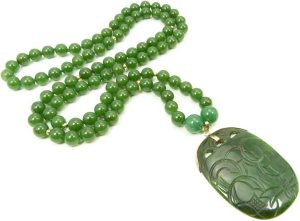 Jadeite energetics and its impact on humans
Esoterics and magicians consider jadeite the most faithful stone. Defending its master from the negative, it can save his life and fall to pieces. In general, jadeite magical properties can be divided into three groups.
At first, it is a peacemaker stone, a mineral of virtue. It calms anger and aggression in its owner and does not allow him to do bad things. Jadeite smooths conflicts and creates a peaceful atmosphere. Even such tough disagreements, which often happen between parents and children, this mineral is able to calm down, to establish the connection of generations.
Secondly, it's the stone of a happy married life. Jadeite retains feelings in a couple for years, protects the house from jealousy and scandals. In ancient times, the girl, accepting the offer to marry a guy, gave him a pebble of jadeite. The day before the wedding, he gave her the jewelry made of this pebble.
Thirdly, this gemstone is the patron of businessmen. After all, jadeite faithfully serves not only its master but also its business. From time immemorial, farmers used jadeite to obtain a luxurious harvest, and wandering merchants – for the successful conclusion of deals. And even in gambling, this stone promises luck to its owner.
Do not miss the 2 lunar day – the time when the jadeite magical properties are on the peak – with the Lunar Calendar: