We in Moon Organizer celebrate the beginning of the new year in our own way – with the release of new freebies! And today we are pleased to introduce to you our Moon Phase extension. This free extension has already been published to the Google Chrome Webstore and is ready to keep you updated on the current Moon's state. We have included in it all the essential data that may be useful to you. Namely:
Your location and current date
Moon phase name and image
Moon Zodiac Sign
Moonset and moonrise time
More information about the current phase
Here you can see how it looks: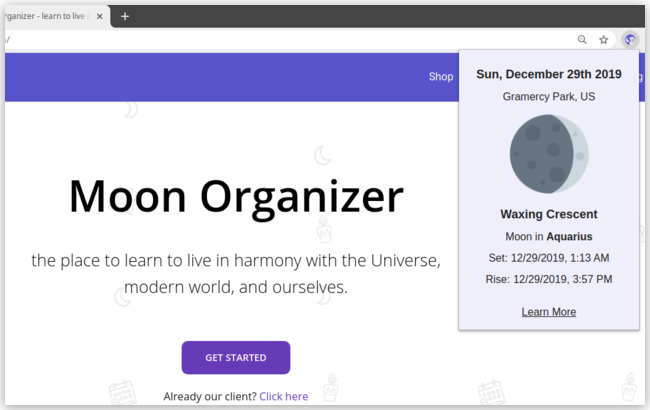 How to install and set up the Moon Phase extension
It is very easy! Moon Organizer extension does not require any configurations. We determine your location automatically and give accurate information about the Moon especially for you. You just have to add it to your chrome panel. And here is how to make it:
Go to the Moon Phase extension page, or find it in the Google Chrome Webstore as the Current Moon phase by Moon Organizer.
Click "Install" —-> "Install Extension". Our icon will appear in your browser's panel.
Click on our icon every time you want to learn the current phase of the moon, its zodiac sign, set and rise times, and so on.
By clicking the "Learn more" link at the very bottom of the extension, you will go to the page on our website where we give you the more detailed information about the current Moon Phase from an astronomical, historical, and astrological point of view.

Also, recently we released a free Moon Phase widget for a website with the same content. So if you have your very own website and want to enhance your visitors' experience, read this article >>
✨💜 We hope you enjoy our winter holiday gifts! We wish your 2021 to be the year of happiness and harmony – with yourself, the modern world, and forces of the Universe 💜✨