We all crave the idyllic, comfortable, and well-designed homes that we see in the movies, but for some of us, that idea is not realistic due to money. Anyone who has ever gone through a major renovation will be painfully aware of the unexpected costs and extreme mess that comes with it.
So how can we modernize our homes without all the excess expenses and fuss? Well, you have come to the right place as we will take a look at 5 imaginative and affordable ways to modernize the look of your home.
1. Change Your Door Handles
You might have read the first point and be a little confused, but door handles can make a huge difference to how a home feels. If you want to achieve a more modern feel you should opt for some stylish black door handles as these are bold, elegant, and mysterious. Switching up your door handles for something more modern can boost the look of any home. You can get matching handles to go throughout the house and you could also incorporate the style by using similar handles in the kitchen. Something as simple as changing handles can give your house a cohesive and well-thought-out feel.
2. Upgrade Your Lighting
The right lighting can breathe a new lease of life into a room. Light is so important in how a room feels, for instance, a dimly lit room feels small, cramped, and dark. Whereas, a well-lit room can make a room feel bigger, more open, and welcoming. There are lots of chic ways to help light up a room including low-hanging overhead lights, minimalist LED corner lamps, bedside table lamps, and more! With a change of lighting, you can modernize your home with bright lights for a minimal cost and no need to get in an electrician as you can do it all yourself.
3. Create a Feature Wall in the Bedroom
Putting up wallpaper in your home is easier than ever thanks to the invention of new removable wallpapers. Skip the tacky stuff and go for a stylish geometric pattern or modern graphic that you use to wallpaper just one wall in your bedroom. This then becomes the feature wall, and you can place your bed's headboard against it for maximum effect as this draws further attention to the wall. This will look so good that people will think you have hired an interior designer to pull something like that off.
The reality is that it's an affordable method of modernizing your home while also being an easy way too. If you ever decide you want to switch up the wallpapers you can simply peel them off and it will not harm the wall underneath. Consider this an easy weekend project that comes with big rewards for minimal effort!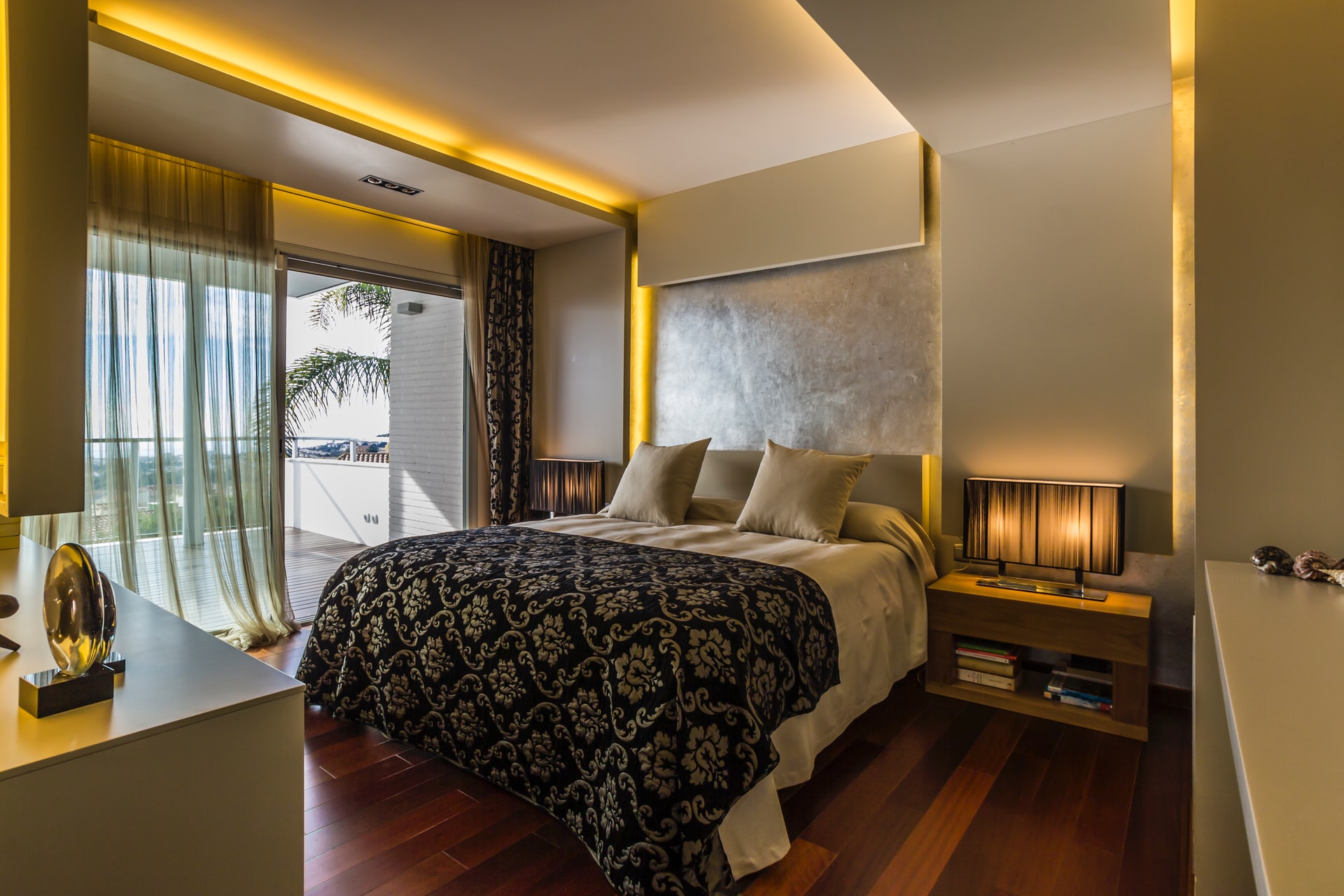 4. Decorate Your Garden
It does not matter whether your garden is big or small, what matters is how you present it. If you have a path in your garden (front or back) you could line it with in-ground solar lighting to lead the way. These lights look slick and stylish and can be purchased at very affordable rates. Alternatively, you could hang up string lighting that has mini light bulbs across it to give your garden that modern touch. Lighting in the garden can make a huge difference and it also makes it feel much nicer to be in, especially on those cool summer nights.
5. Spruce Up the Kitchen
Sprucing up the kitchen and renovating the kitchen are two very different things. Sprucing just requires a few DIY jobs here and there as opposed to hiring a team of construction workers to tackle your kitchen. If you are bored with how your kitchen looks you can change little things such as drawer pulls on kitchen cabinets. Consider using a sleek black handle to make the rest of the colors in your kitchen pop.
Changing your cabinets is also an option, while this might require a bit more work on your behalf it is well worth it when the new cabinets are in and you feel like you have a whole new kitchen. Also, if in doubt, a lick of paint on the walls will never fail to create a different ambiance.
As you can see, there are plenty of ways to modernize your home without having to go through the ordeal of a huge renovation process. You can get to work on the outdated aspects of your home and turn them into sleek and stylish components that together create a new, modern feeling home.