Mars in Gemini is a favorable location in which the activity of this planet rushes into the channel of a mutable air sign. In general, Mars controls a person's ability to act, achieve goals, and gives people a vital "fuel". And Gemini is a very active, inquisitive, talkative Zodiac Sign. Let's take a closer look at how Mars in Gemini affects a person and all of us during the corresponding transit.
What kind of fuel is in your tanks?
Sometimes we hear that Mars is a planet of aggression, provoking injuries, clashes, violence. However, it plays an important positive role in the natal chart and transits. It is Mars that gives us the very opportunity and ability to act. And without action, humanity would have failed.
As for Mars in Gemini, such a combo gives the individual a lot of vital energy. It is necessary so that the personality can satisfy the needs of Gemini – to move, communicate, consume information, and transmit it further constantly. With this arrangement of the planet, a person's activity revolves in the plane of communications, education, travel. His feature is a huge variety of interests, knowledge, and skills. Mars in Gemini accelerates almost as fast as Mars in Aries and just as quickly burns out. But there is one difference: Mars in Aries really gets tired by the end of the sprint distance because he tries too hard. And Mars in Gemini simply gets bored, and, having run one short distance, is already running to conquer a new one 🙂
Of course, such a peculiar trait can be called both an advantage and a problem. Everything is always ambiguously with Gemini 🙂 Look, one more trait: wit + eloquence + talkativeness … This person is a genius interlocutor but at the same time an inveterate debater who can easily offend with a word and blurt out too much.
Learn more about the influences you're experiencing right now in our Living by Moon course >>
Self-realization with Mars in Gemini
As you may guess, the fuel in the tanks of this person is curiosity and a thirst for communication. The ideal occupation of Mars in Gemini should be associated with receiving and transmitting information in one form or another. He needs new acquaintances and contacts with a large number of people. And also – a change of scenery from time to time, so that he does not get bored.
Such a person can manifest himself in work with words – to become a brilliant journalist, stand-up artist, educationalist. If he chooses an occupation that satisfies his need for variety, he will easily succeed. After all, the biggest obstacle to the realization of his goals is himself. Or rather, his mutability, lack of concentration, desire to do everything at once.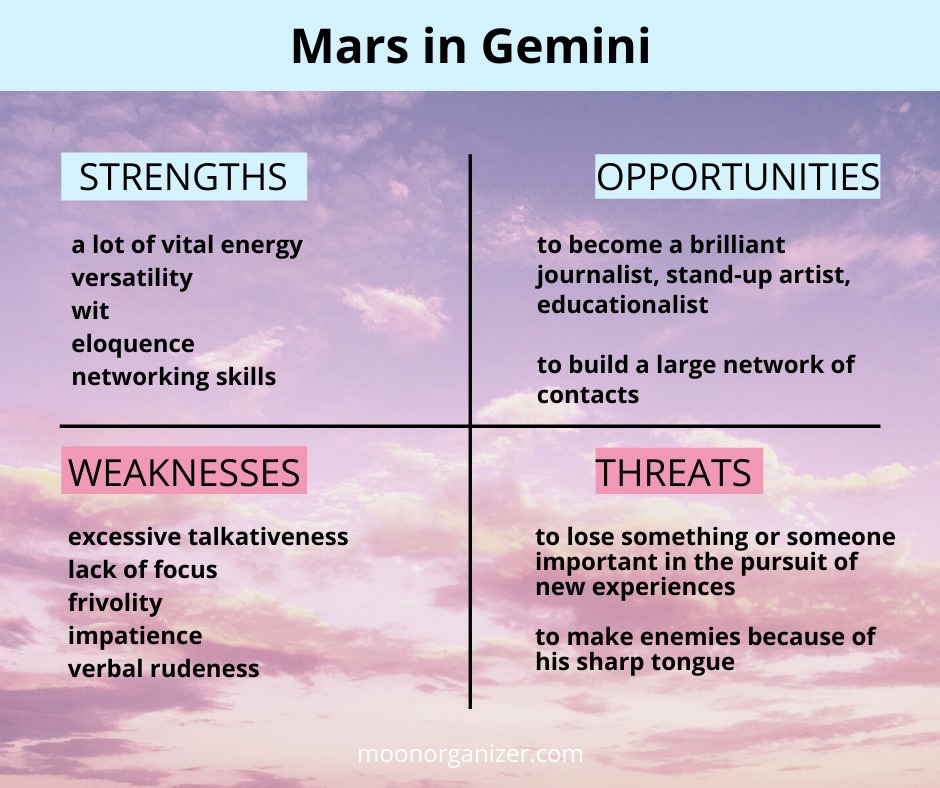 Mars in Gemini for a man – sexuality
Mars in the natal chart is responsible not only for our energy level and ability to achieve. It is also the planet of male sexuality, masculinity. Since Gemini is more susceptible to subtle non-material concepts, their sexuality resides in the head and on the tongue. I mean, they use their sharp wit and eloquence to seduce girls. And, on the other hand, they are turned on by girls who can maintain an interesting conversation.
Unfortunately, the frivolity of Mars in Gemini extends not only to work issues but also to relationships. Such a man quickly gets fed up with one partner and goes in search of a new one. Or, has several girlfriends at once, not to get bored. Of course, there are exceptions. He can meet such a diverse, mysterious, intelligent, and mutable woman who can maintain an interest in him for a long time. And he, in turn, will give her all his oratory skills, share a lot of knowledge and, for sure, a lot of sharp jokes 🙂
Yes, there is a flip side to the coin, and there will be verbal hassles in such a relationship. Don't take his words too seriously – they are just weapons for him, tools for games. Even if he said something really hurtful to you, most likely, he will forget about it soon.
Mars in the natal chart of a woman – your perfect man
In a woman's natal chart, the position of Mars indicates her "dream man" type. If your Mars is in Gemini, your ideal partner type is the Artist of Word. You are turned on by intellectually developed, eloquent, witty men. Loud, bright, energetic personalities who are not afraid to draw attention to themselves. You like their versatility, the opportunity to discuss many different topics.
In everyday life, such a man should be a fidget, all the time urging you to hurry up somewhere, go, communicate. His social circle should be huge – why do you like it so much? Perhaps you need more contact with other people, and you know that such a man will introduce you to them. And also, you will surely be proud of him and yourself, seeing how he chose you from all the many acquaintances 🙂
Learn more about the influences you're experiencing right now in our Living by Moon course >>
Transit Mars in Gemini
Transiting Mars in Gemini has an impact on all people in the world. Even the most inveterate silent people want to socialize! Space is teeming with talks in their most varied forms: sincere conversations, compliments, gossip, heated discussions, verbal abuse… It is a good time for all masters of words, public speaking, written publications, advertising campaigns. Also, curiosity pushes people to learn and search for new information. It is favorable for educational programs in various fields.
Gemini is not only intelligence and words, but also movement. During this transit, everyone is in a hurry, the number of trips and new acquaintances is increasing. People become more active, and even homebodies happily go for a walk.
It is worth starting a new project during such a period only on the condition that you are confident in your interest in it. This interest should be tested by time and originated even before this transit. Otherwise, as soon as your Gemini's "fuel" runs out, you will quit it. In business and work, staff turnover is possible.
In the field of love relationships, the same thing happens. Ties are made quickly, and just as quickly fall apart. Short-term relationships with several partners at the same time are possible. Traditionally, this is the time of the so-called "holiday flings". In principle, with favorable aspects of Mars, such a relationship does not pose any threat. They will bring you pleasure and fond memories.
But with negative aspects of Mars, chaos, nervousness, delays, communication disruptions, unpleasant conversations are possible. So, keep up with the planets' mood and use any of their positions to your advantage!
Learn more about the influences you are experiencing right now 👇